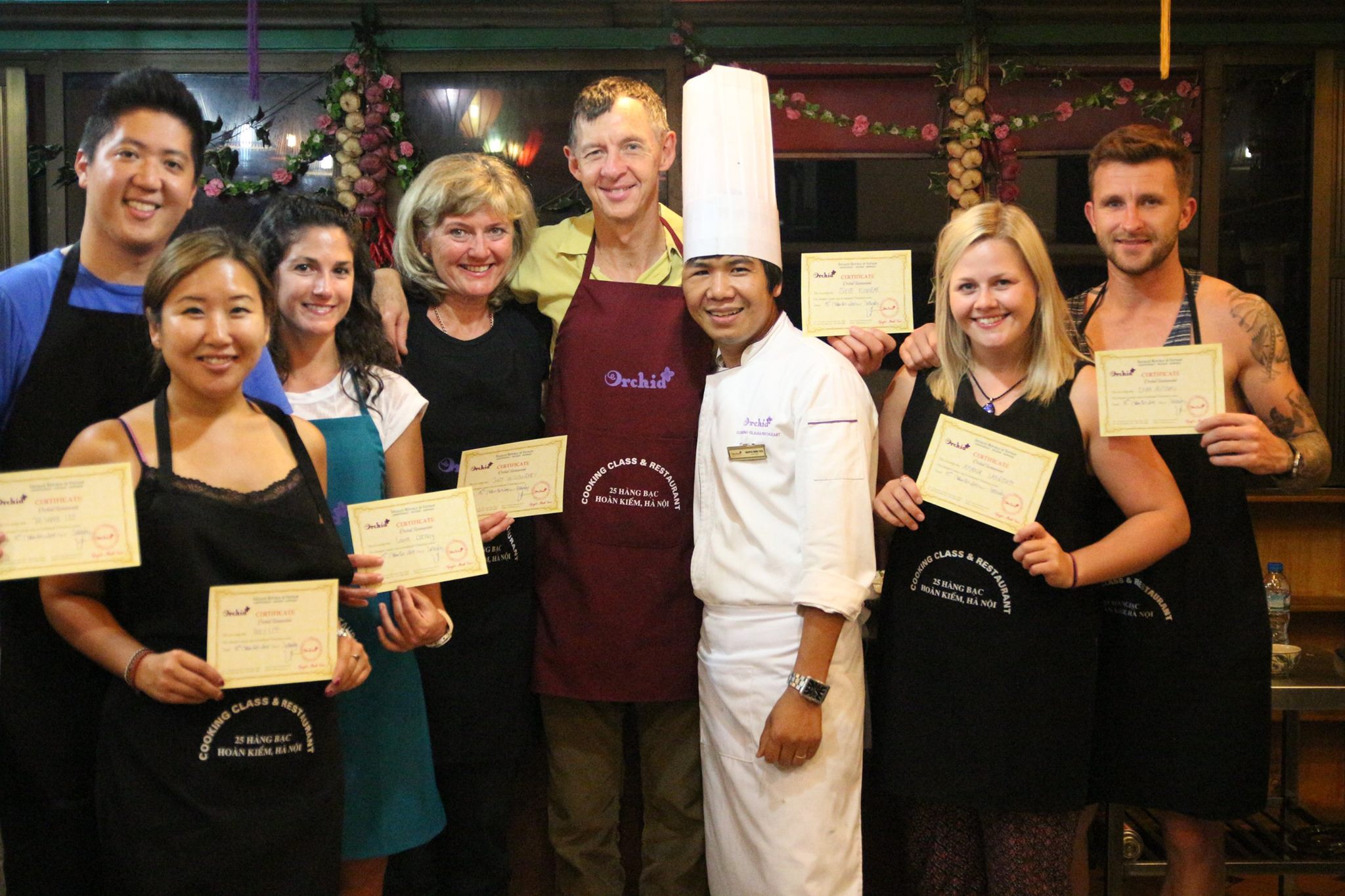 "Cooking from 8.00- 12.00 or 15.00- 19.00"
8.00, our chef will pick you up at your hotel, you then will start walking to the local market for 30 minutes, then It's great chance to see a variety of foods from all the groceries such as: herbs, spices, vegetables, meats, fishes, fruits which are so fresh. All things bring you very close to the simple life (herbs and spices are a very important part of authentic Vietnamese food).
8.30. Complete your shopping, we come back our home to prepare and cook main dishes by yourself under the instruction of the tour guide from the beginning to the end, learning how to marinate and to spice will be the most crucial lesson. You will also enjoy decorating dishes with carrot flowers, lemon grass stems, banana leaves and curved chili.The authentic magical sauce mixed from fish sauce, water, sugar, lime, chili, garlic and herbs is very easy to make.
11.00, Lunch time coming and enjoy your meal with friendly time.
12.00, our chef will transfer you back hotel and give you recipe if you want, see you again!
*Suggested dishes (or customize your interest)
– Green papaya salad/ Banana flower salad
– Fried spring rolls "Nem Ran"
– Steamed rice paper- roll pancake "Banh Cuon"
or other option:
– Noodle soup with beef or chicken
– Stir fried chicken with lemon grass (beef/ fish/ pork)
– Fried Vegetable (seasonal)
Tour cost in USD per person
Class

Group Tour

Private Tour

Private Tour

2-3 Pax

4- 6 Pax

2- 3 Pax

4-6 Pax

8-15 Pax

Standard class

45$

40$

60$

50$

45$

Superior class

50$

45$

65$

55$

50$
*Standard class included:
– Pick up hotel in old quarter with round trip.
– Walking to traditional market.
– English speaking chef & Shopping.
– Enjoy your cooked food with hosts.
*Superior class included:
– Same with standard class
– Cyclo riding for 45 minutes in old quarter
* Excluded: Tips (not compulsory)
+ Group Joining Tour: Maximum 8 guests.
+ Private tour/ or special booking: From 1- 40 guests.
Booking Form!