In Vietnam, the country's shape on the world map resembles the letter S, stretching approximately 1,650 kilometers from north to south. It is divided into three main regions: the north (Hanoi), the central region (Hue), and the south (Ho Chi Minh City, formerly known as Saigon), each with its distinct climate characteristics. Selecting the right time to visit Vietnam is crucial, and we are delighted to help you with that decision.
Our Vietnam Map provides a convenient tool for determining the most suitable time to explore Vietnam.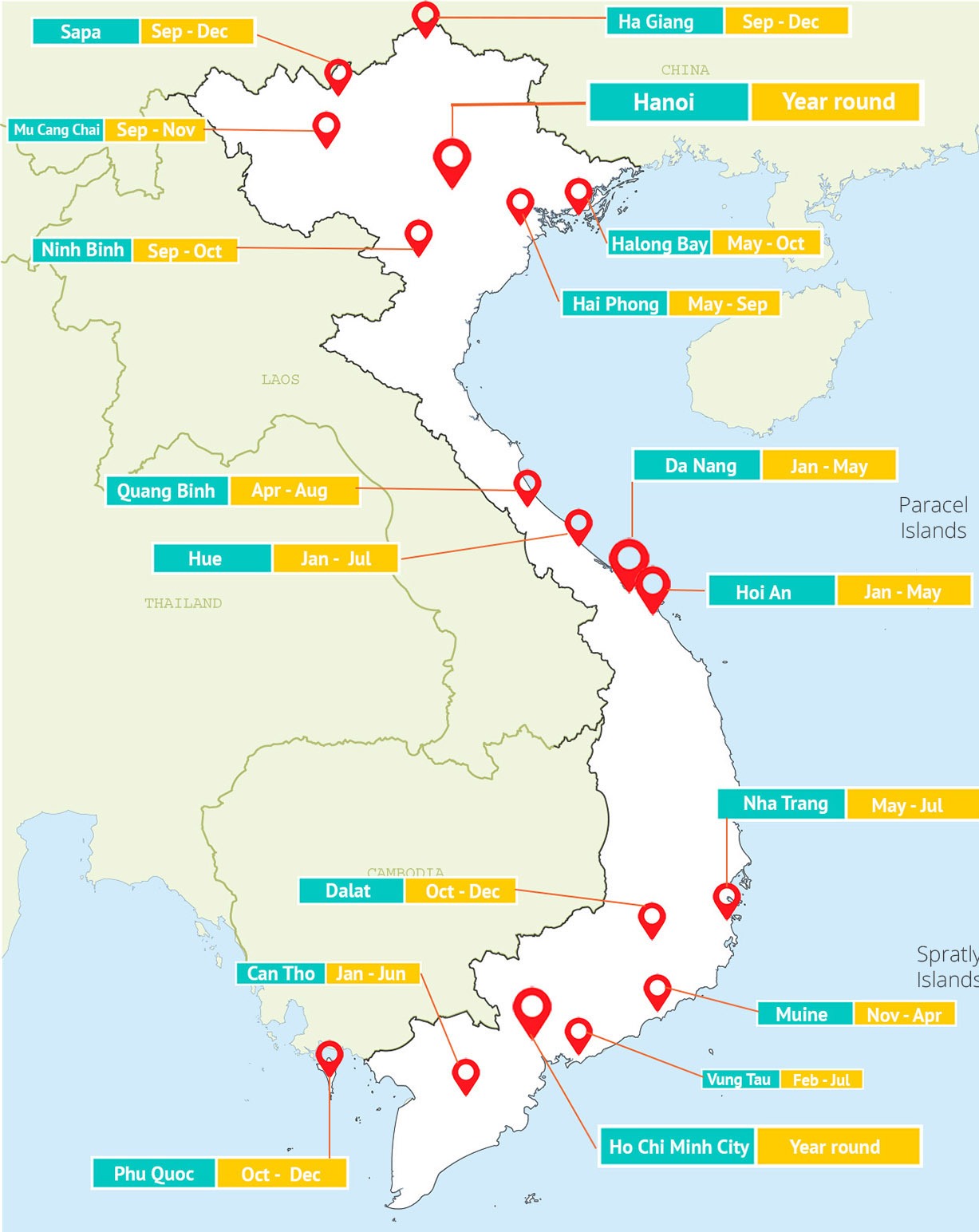 What is the best time to travel to Vietnam?
Before explaining in detail the weather varieties during the year, we could say that there is NO RIGHT OR WRONG season to visit Vietnam. If you prefer cultural tours of the country, you can travel in Vietnam at any time, with the best balance period in the months of April, May or October or even until the mid of December.
Vietnam has a very diverse climate as its territory expanded on many latitudes and spread in various altitudes approximately 1800 km from top to toe. When a region is wet, cold or rainy, we always find another pleasantly sunny.
Located in the monsoon zone of South East Asia, Vietnam has two typical monsoon seasons. Between October and March, the north-east monsoon affects mainly the area north of Danang. It makes cool, wet winters on all areas north of Nha Trang, mild and dry weather in the south. In April-May to October, the south-west monsoon pushes its accumulated moisture-laden winds in the Indian Ocean and the Gulf of Siam. It provides a warm and humid weather throughout the country, except in protected mountain areas (as in low-lying coastal areas of the center or the Red River Delta).
So here are some travel ideas for visiting Vietnam and choosing proper time
Cultural Lover: It is a nice idea to discover Vietnam during Tet, Vietnamese traditional New Year which may be in January or early February, but not ideal as the whole country is on the move so you have to plan carefully your trip.
Beach Lover: You should avoid the monsoon season in the center of Vietnam from October to December but you could enjoy wonderful weather in the southern beaches such as Phu Quoc or Mui Ne
Photography Lover: June to October is the best time for rice terraces is Vietnam
VietnamTour.top by Awesome Travel