Get up early and discover the other side of Hanoi and Hanoians, witness the fruit sellers set up their wares and the children head to school in their crisp white uniforms, Tai Chi daily in most of Hanoi Park's..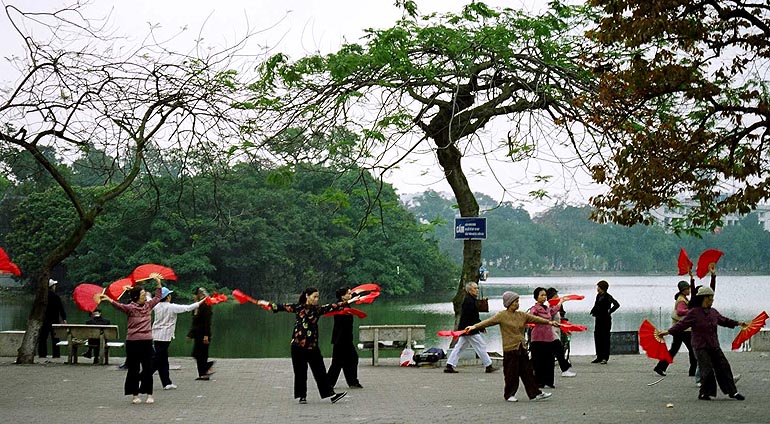 Option1: Early Morning Walking Tour: 20USD
"Summer: 5.30- 8.00 or Winter: 6.00- 8.30"
5.30, tour guide will pick you up then we will start walking around 3Km through old quarter to see the early lives of locals with different activities and exploring 36 old streets and wandering around the narrow alleys of Hanoi Old Quarter, tourists can see many ancient houses preserving their original charm since 19th century, Joseph's Cathedral, temples…
Good chance to stop by Hoan Kiem Lake, considered the heart of Hanoi. You can observe many locals doing morning exercises or taking part in interesting activities such as cycling and playing badminton.
7.00- 7.30, enjoy local breakfast and iconic coffee and finish your walking time, see you next tour.
                                           PRIVATE TOUR
| | | | | |
| --- | --- | --- | --- | --- |
| No of travelers | 2 pax | 3-5 pax | 6-8 pax | 9 pax up |
|  USD/1 person | $20 | $18 | $16 | $14 |
+ Tour included:  walking tour, english tour guide, breakfast and coffee
+ Tour excluded: Tips (not compulsory)
---
Option2: Early Morning Motorbike Tour: 30USD
"Summer: 5.30- 8.00 or Winter: 6.00- 8.30"
5:30, our guide will greet you at your hotel. We start the tour by taxi or motorbike from your hotel. First we visit to the famous flower market where hundreds of different kinds of flowers are being sold in bulk to the flower shop keepers. From there, continue to transfer to Long Bien bridge where, underneath is one of the biggest and busiest fruit markets of Hanoi. Both these markets are only seen in the early morning.
Next we will walk around the old quarter to see early daily activities and lives, things are preparing for the morning breakfast. We'll also make our way to Hoan Kiem Lake to witness, and maybe even take part in, people, young and old, exercising, doing Tai Chi, and jogging. As the sun rises, and the light becomes perfect, take every opportunity to snap some of the best photos of your trip!
8.30. Finish the tour with a traditional Hanoi breakfast of Pho Bo or Banh Cuon, and head back to your hotel to rest for the day ahead.
                                          PRIVATE TOUR
| | | | | |
| --- | --- | --- | --- | --- |
| No of travelers | 2 pax | 3-5 pax | 6-8 pax | 9 pax up |
|  USD/1 person | $30 | $25 | $20 | $18 |
+ Tour included: Motorbike, english tour guide, breakfast and coffee
+ Tour excluded: Tips (not compulsory)